This Touched My Heart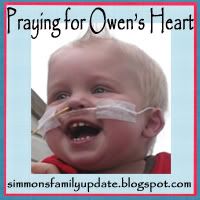 Pray for this family and this little boy. They touched my heart so much. I became ill about 30 years ago now, when I was pregnant with my fourth child, my son Matthew. He, like this child had hypoplastic left heart syndrome ...and only lived six days. He was only 2 lbs 12 oz. Medicine has come a long ways since then and I pray God grants a miracle for this boy -and his family.
Will you keep them in your prayers too?
Zona